It's that time in the year again, when essays are starting to roll around and seminar prep has become a repetitive cycle. Here at Impact we're yearning for some home baked goods, and if you are too, then you're in for a treat.
Malteser Brownies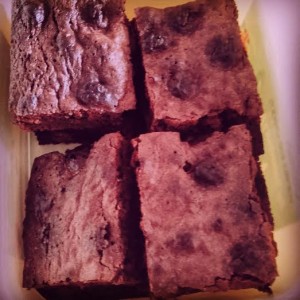 Ingredients:
180g butter

200g dark chocolate

75g flour

50g Maltesers hot chocolate (or Ovaltine)

1/2 teaspoon baking powder

220g light brown sugar

3 eggs (beaten)

150g Maltesers
Method:
Preheat the oven to 180C.

Melt the butter and dark chocolate together in a bowl over a pan of boiling water. Set aside to cool for 5 minutes.

Combine the flour, hot chocolate, baking powder and sugar together in a mixing bowl.

Stir the chocolate and butter mix into the dry ingredients and then stir in the eggs. Mix well.

Crush half the Maltesers and add them to the mix, followed by the rest of the Maltesers. Spoon the mix into a lined baking tin (around 20x20cm).

Bake for 30-35 minutes. The brownies should be crispy on top but gooey in the middle!
Emily Howard
Homemade Chocolate Digestives 
Ingredients:
150g plain wholemeal flour
150g medium oatmeal
1 tbsp bran
¼ tsp salt
1 tsp baking powder
75g dark brown sugar
150g unsalted butter
1-2 tbsp milk
150g milk or dark chocolate
Method:
Whisk the flour, oatmeal, bran, salt, baking powder and brown sugar together in a food processor.
Add the butter, diced, to the food processor and run until the mixture is thoroughly mixed and resembles bread crumbs. Add the milk until the mixture comes together as a dough (make sure it is not too dry however; add small amounts of milk gradually until it is perfect).
Flatten the dough into a thick disk shape and wrap in cling film. Put it in the fridge for 30 minutes to firm up. Preheat the oven to 190°C.
Put the dough in between two pieces of greaseproof paper and roll out using a rolling pin to about the thickness of a one pound coin. Using a cookie cutter, cut out shapes and place on a baking sheet (greased and lined with greaseproof paper). Place in the oven for 10-12 minutes, or until the biscuits begin to darken at the edges.
Leave to cool on a wire rack. Meanwhile, bash up the chocolate in a bowl and melt in the microwave. Dip the base of each biscuit in the melted chocolate to coat and place chocolate-side up on the baking sheet and leave to harden.
Perfect with a cuppa!
Tips:
If you don't have oatmeal, you could simply whisk the same amount of oats up in a food processor until they are finer – it works just as well.
Bran is a slightly obscure ingredient so you can always leave this ingredient out if necessary.
Make sure you keep an eye out when melting the chocolate in the microwave because it can burn easily!
Ruth Pengelly
Image credits: Emily Howard and Ruth Pengelly
Come and follow us to see more of our cooking and reviewing adventures! Instagram:@impactmagfood, Twitter: @impactfood